God Desires Our Unsaved Loved Ones ~ by Laura Inman
Some of us are blessed to walk in the Lord's will most of our lives, feeling close to Jesus as our personal Savior and Friend. Others of us may be brought up in the church, but for some reason turn away at a point in our lives, giving ground to Satan, as we follow paths not in keeping with God's will for us.
If we are blessed enough to have a conversion or re-conversion experience in our lives, I believe that we may develop an even stronger walk with the Lord as we hunger for His Word and leading of the Holy Spirit. Along with this can come a strong feeling of gratitude, as we bask in the knowledge that we, though undeserving, are promised a Divine inheritance instead of an eternity in hell, separated from God.
As we imperfect Christians struggle to do His will in our daily walk, some of us may be as I was, assaulted by the fact that not only 'them out there', but some of our closest family members and friends are still unsaved!
In my case, it 'hit home' that there were (and are) nonbelievers in my immediate family, with my biggest concern being for my own mother who was getting older. She began a serious physical decline in her last year. When I wrote her obituary, as requested by my step-dad, I had no trouble listing glowing accolades to describe her many talents and accomplishments, altruism, intelligence, and genuine love of family.
I chose not to mention in that venue, my years of pain and frustration in attempting to help my mother accept Jesus, and the spiritual warfare involved. (This was also experienced by my youngest sister, who is a believer.)
The Lord admonishes us through His Word to bring His message of salvation to those who are unsaved. But not all of us are extroverts or natural evangelists, including me! However, I can honestly testify that He can and will work through our imperfect attempts, as long as we don't abandon the tools of faith, prayer and action through obedience.
My mother was an intellectual who easily devoured three or more books a week. She was also highly educated. In one of my earlier attempts to talk with her about allowing Jesus in her life, Mom said that she had made a decision to distance herself from Him in the early 1960s. She would not go into explanation, but said emotionally that it hurt so much to make that decision that she would never reverse it. Subject closed!
It is for clarification, not condemnation of my mother that I will now relay that I believe the result of her decision to turn away from Jesus led to divorcing my dad in the late 1960s and many personal problems that enslaved her and our whole family for decades to come. In general, I think the late 1960s ushered in a strong spirit of rebellion in this country on many levels. I certainly fell victim to it!
It is impossible to express my gratitude that our Lord chose to set things in place in my troubled life to gradually lead me back to Him. As I have progressed in my Christian walk through the years, He has sometimes spoken to me through visions. Quite often these happen in church. During this past year, when it became obvious that my mother's health was declining, I was given certain visions from the Lord which helped me to have hope for her place in eternity, despite outward appearances.
One I recall was that of dear Jesus with His white robed arm around Mom's shoulder. She appeared to be a child of about five. They were facing away, but I could tell that He was showing her a realm that I could not see. In my spirit I felt that it was heaven.
Thank you, Jesus! Another involved an actual sunset that I was privileged to see over a waterway, which appeared as an exact outline of my mother in pink, again facing away to a gorgeous illuminated realm, just before the huge sun set into the water like a giant pink (her favorite color) ball!
In trying to follow the commandment to 'honor thy mother', and because of my love for her and our family, I stayed in relationship with her through the years. I also visited her often through the painful and turbulent last four months of Mom's life. Frequent falls and some dementia had become involved by then, which led to stays in the hospital, rehab facilities, an assisted living attempt, and ultimately long term care and hospice.
These visits for me were almost always uncomfortable in various ways, beyond my natural concern for her suffering. Mom's husband of forty years is an avowed atheist, and was present quite often. Though he could be affable and humorous at timers, my step-dad's personality and intentional confusion of issues was clearly being led of a spirit not of the Lord. To put it bluntly, I discerned that there was demonic involvement. Also, because they had such a long marriage outside of the Lord, I think that his 'familiar spirits' and those of my mother knew each other intimately. Could I go up against those forces in my own human strength? Impossible!
The mother who gave me birth, made most of my grade school clothes by hand, and wrote a book devoted to my childhood whimsies, looked at me with distain when I entered her room most of the time. Often she would say unkind or unwelcoming things, like, "You know you don't have to visit me." It was very intimidating, even though I knew that she was being influenced by something else. I would have to take a couple of days at times to heal, regroup, and pray in the Spirit for His strength and protection to go back into the fray. The human part of me would think, "I don't need or deserve this!"
In addition, I knew that if indeed my mom was ever to be saved, it would be the work of the Holy Spirit and not me. He could work through anything or anyone (and He will), and she may pass without me even knowing for sure. By God's grace and His divine arrangement, I was blessed to be a part of leading my mom to salvation. It was a wonderful surprise to me at the time!
Let me clarify that prior to this, I knew better than to visit my mom and begin preaching the Gospel. I did have some holy oil in my purse which I rubbed on bedding or on a window sill, if I could do so inconspicuously. I did pray in the Spirit when her eyes were closed. I did give the glory to God when recounting any positive personal stories of the day, and took a deep breath against the power of her mocking spirit, which I knew too well.
Most importantly I want to emphasize that I had been blessed with making several dear friends in my life who were strong prayer warriors. For years many of them, along with my cousin who was now a Pastor, were praying daily for my mom's salvation. I tried not to miss an opportunity to mention my concern about my mom's salvation to any who inquired, when I knew that they were Christian or in ministry. It is not my personal style to ask for favors, but this involved eternity! My sister was actively part of an online women's prayer ministry who were praying consistently for Mom's salvation. I can't stress enough that I am convinced that my mother's salvation was won through the results of earnest prayer!
My mom was placed in hospice care about three weeks before her death. I spoke on the phone with the Chaplain of her care facility. I mentioned that she was a nonbeliever. About three days before Mom passed I was in her room alone, praying over her in the Spirit while she seemed to be asleep. I glanced over to see a man I felt to be the Chaplain walking out of her room. I went out and met him in the hallway and asked the Chaplain to come and pray for Mom with me, to which he agreed.
While the Chaplain and I were praying over Mom in her bed, I could actually feel something like Jesus coming out of me and going into her! His prayers were fervent but kind, however he didmention repentance. To my great sadness, my mother then began shaking her head no at us. We finished our prayer and said so long.
I received a call from the hospice nurse the following morning. She said that she had seen a "change" in Mom, indicating that she was nearing her final stages. Later when I arrived, the hospice nurse advised me to summon any family members who might want to say goodbye to Mom, "just in case". I phoned my two sisters and daughter who arrived in stages as the day progressed, and stayed for some time. Mom was still alive when I arrived back the following morning, which I now consider a huge gift.
At one interval of over an hour, everyone had gone out of Mom's room for various reasons. Due to my mom's recent frequent falls out of bed, hers was adjusted low to the floor. I felt led in the Spirit to get down next to her. I had no real fore-knowledge of what I was going to say or do. Nothing about this felt polished or comfortable, I just sensed that the Lord was leading me.
As I knelt beside Mom, I was given a vision to share with her. Toward my left shoulder I saw the face of Jesus. It was a soft, illuminated image, very loving and real! He was smiling warmly. Just below His face was what appeared to be a row of five or six white flowers spaced apart. Then, across my mom and the top of her bed was a scene of soft sunlight, interspersed with planted young trees. I felt led to tell my mom what I was seeing.
"Mom, do you see the Dogwoods?" I asked. "They're in the sunlight." I was encouraged when her eyes seemed to be totally following my described vision. She was focused and onboard! Her gaze was intense. "Do you see the Dogwoods in the sunlight?" I asked again.
"He's smiling at you. Jesus wants you to follow Him down the sunlit path." This time my mom was not resisting at all. This was a scary time for me on unfamiliar territory, but I continued. "Mom, Jesus is leading you to a place of love. You belong there." Then, as I felt led, "It's o.k. to let go. We're all going to be o.k. We're all going to be o.k., Mom. You'll be standing there with open arms, waiting for us, and we'll all be together again."
Mom's expression was more peaceful than I had seen it in my memory. Glory to God for His Excellent Grace!
Addendum: My mother passed away several hours later. I know without doubt in my spirit that she is with the Lord! I also received some uplifting signs, through the power of the Holy Spirit, of my mother the day after she died, as did my sisters!
Note:  Give Glory to God by sharing your testimony of His Excellent Grace  on our Guest Post.  Submit your story to blawyerlogos@bellsouth.net or mail to Logos Life & Light Foundation, Inc., P.O. Box 1732, Ormond Beach, FL 32175.   It will be edited and returned to you for approval before posting.
Judges 6:22-23 Then Gideon perceived that it was the angel of the Lord; and Gideon said, "Help me, Lord God! For I have seen the angel of the Lord face to face." 23 But the Lord said to him, "Peace be to you; do not fear, you shall not die." (NRSV)
I liked the old beveled mirror in Grandma's dresser in the front hallway. It intrigued me. My image was never truly distinct, and there was always a yellowish cast with little black pin dots overlaying my face. But the mirror was perfectly placed for last minute check-ups as I left the house. Will I look OK when I go to town?
For an instant one day I thought my quicker-than-usual check displayed another's image in the mirror. As I drove to town, I pondered, "What if every time I looked in that old mirror I saw God's face?" God scrutinizing me. How important would it be to look perfectly groomed? What if a glance into the face of God preserved other than my outward appearance?
As He so often did, the Lord prefaced what he told Gideon in Judges with "Do not fear."
Then He stated "You shall not die." When Jacob saw God face-to-face in Genesis, he said, "My life is preserved!" In Deuteronomy Moses promises that obedience to reverence will result in divine blessings "…that He might preserve us alive, as it is at this day."
I'm going to see if I can put God behind the looking glass. Then we'll see how important my image is . . . or will the life I lead and my very soul be what is showing as I go forth?
No doubt there will be blemishes as in the aged glass, but God's check of me will be the assurance that I'm ready to go to town!
Dear God, Come through our mirrors and help us to see what image we are portraying.  May we preserve that which You deem important.  Amen.
Christmas came with a howling wind that year in the mountains of Colorado, and I wasn't ready to don the coveralls. In my usual organized manner, I finished preparations. We cut the tree and trimmed it. The children wrapped their homemade items and placed them on the tree skirt. Only Santa needed to deliver presents. We were ready to sit down for supper, prior to attending our Christmas Eve service at the church.
My husband came into the house from the barn and announced that a different delivery was on the way. Oh, no! Big Moe was not due until January 2nd. Would our first lamb to be born choose to enter the world on Christmas Eve? It was quite appropriate to have a birth in a stable. But the wind! My husband said that he could hardly get the barn door shut and latched as the Colorado wind pushed him against the door.
I tried to remain calm about the forthcoming event, but I hurried through the meal. Then I changed out of my church clothes, put on layers of wool, and squeezed into my dirty coveralls.
It was a cold trip to the barn, but inside it was warm. Big Moe was in her corner pen rearranging a straw bed. Our other ewe, Jamie, baaed softly every time Big Moe moaned.
A birth was imminent but not immediate. I reclined in a lawn chair by the feed room. I was too excited to sleep, so I observed the nature of sheep. It was an hour before two sets of black nails appeared, followed by a black button nose. Success! A medium-sized lamb entered the world. I quickly cleaned its nose with a towel and helped the mother dry the tightly-kinked wool. Big Moe started groaning and turning around in the straw. Another lamb was coming! There were twins!!
I weighed the lambs in a bucket: twelve pounds apiece. After they got colostrum, their first milk, I rushed to continue Christmas Eve plans. There was no wind. I turned to see the outline of the barn against the snow-capped Rockies. Now that I didn't have to protect my face from the wind, I could see stars above the barn.
Oh, how beautiful, how calm. But only for a minute, I thought. Newborns in the barn at the Christmas season will keep me busy. In another couple weeks, our other ewe, Jamie will also deliver … or could it be sooner? But this is what I wanted – to be a shepherd, in addition to being a wife and mother. I believe that night in the stable, my life was changed forever.
"And there were shepherds living out in the fields nearby, keeping watch over their flocks at night. An angel of the Lord appeared to them, and the glory of the Lord shone all around them, and they were terrified. But the angel said to them 'Do not be afraid. I bring you good news that will cause you great joy for all the people. Today in the town of David a Savior has been born to you; He is the Messiah, the Lord. This will be a sign to you: You will find a baby wrapped in cloths and lying in a manger.'" Luke 2:8-12 (NIV)
This does bring great joy! Joy for the little sheep and great joy for the little Shepherd who were both born on Christmas.
May the Lord bless you all with His Excellent Grace this Christmas.
From prostrate prayer on a concrete floor in Southeast Asia to wordless worship in warm West Africa. How did I move from profound grief into a deluge of delight?
When God gave me the comfort of His Word in Hebrews 12:12-13, I knew that if I remained in my current darkness of despair, I would never heal. The first part instructs, "Wherefore, lift up the hands which hang down." From the expanse of my agony, I called the only name I knew would hear. The only name I trusted to answer. The only name that could rescue. Jesus.
The next verse revealed my next move, "Make straight paths for your feet, lest that which is lame be turned out of the way; but let it rather be healed." For me this meant stepping into the lighted path of truth. Exposing the darkness. If I didn't, I would limp along without the necessary braces to support my damaged limbs. I reached for help. I rallied a few close girlfriends at home in the US and standing with me on the mission field. Baring my brokenness brought the needed strength required to leave the comfort zone of the familiar. I pondered the liability this exposure could bring: damaged reputation, defeated expectations, ruined relationships, scarred rejection. However, the path to obedience is riddled with risks. If there wasn't sacrifice, if nothing was required or lost, if obedience cost us nothing, is it really a sacrifice? Following Jesus into the realm of impossibilities is always worth whatever it cost us.
I'm thankful I took that risky step of returning home.
My sending church embraced me. The body of Christ filled my home with furniture and food. A godly Christian counselor, trained in my specific area of trauma, took me in and has been counseling me free of charge. Some great guys painted my house, inside and out. I was able to purchase the "church lady" Buick – 19 years old with only 40,000 original miles. My children received scholarships to attend a private Christian school. My organization walked each step with me, loving and supporting me all the way. Never turning their back on me. Giving me a position to continue impacting the un-reached with the Gospel.
Back on that stony slab in a foreign land far from home, I felt like I was losing everything. Risking it all. What I gained was so much more in the journey of obedience toward the unimaginable.
Today, I am part of a team where I see God do the impossible with a very marginalized, under-reached people group, the deaf and deafblind. We meet people who have never had an education, a language to read or write or speak, and watch how God reaches their hearts like only He can. I am working on a team called SUN (symbolic universal notation). It's a whole new language written in universally recognized symbols. These symbols are being taught to reach the illiterate deaf and deafblind with God's Word.
One such soul is David*. He is Muslim. He is 19 years old. He was born deaf and mostly blind. When his parents took him to the hospital for treatment, the drops he was given caused complete blindness to develop. David has never had any education. No one has ever been able to help him. Pastor Ra*, a pastor to the deaf, in this west African country, and also an audiologist, was called in to help evaluate David several years ago. It hurt his heart to have to tell the family that there was nothing he could do to help. That all changed! Using 3D cards to teach the symbols, accompanied with creative concept demonstration, and sign language instruction, David learned to read and sign twenty symbols in five days! Then he read two lines of Scripture and was able to sign the meaning back to us. His mother and father were extremely grateful. They publicly thanked us for coming, "Not to help the rich but the people who most need it." They knew we were Christians. They knew that all we were going to teach their son would point him to Scripture. This did not bother them. Their son was learning to read and communicate! The impossible became reachable.
Pastor Ra's wife said he would awaken at night asking God to show him how to help the deaf understand God better, when they don't read or understand enough sign language. She said, "God sent you!" Ra thought the task impossible but believed Jesus's words in Matthew 19:26, "Jesus looked at them and said, 'With people [as far as it depends on them] it is impossible, but with God all things are possible'" (AMP**)
Let's not give up. Let's persevere. We will weep, pray, fast. We will be called to leave our comfort zones and act as a result of our faith. The tasks will require risk and sacrifice. We should expect opposition. Hold on to each other. Fight the good fight together in unity. Rely on His strength and wisdom to accomplish His purposes. Finish strong so we can see those things, beyond the bounds of possibility, made possible. Believing in our God who can accomplish His will; Whose purpose no one can thwart.
And God is able to make all grace [every favor and earthly blessing] come in abundance to you, so that you may always [under all circumstances, regardless of the need] have complete sufficiency in everything [being completely self-sufficient in Him], and have an abundance for every good work and act of charity. (2 Cor 9:8 AMP**)
His Excellent Grace sustains and compels me onward.
Living the impossible,
~sas
*names have been changed for anonymity
**Amplified Bible (AMP) Copyright © 2015 by The Lockman Foundation,
If you'd like to read about this project to the deaf and deafblind, please visit https://bibleineverylanguage.org/processes/sun/
God of the Impossible
I was flat out on the concrete floor. Well into our third year overseas on the mission field. Twenty years of marriage shattered with a cutting laser light of truth. Deep, dark hidden things brought out into the sunshine of my oblivious reality. I was in utter despair. Uncontrollable wailing as I've never done before, all I could cry out was, "Jesus. Jesus. Jesus." Profound grief. My marriage in shambles. My heart crushed. My mission destroyed.
What now, Lord? What do I do?
"Therefore, straighten your listless hands and your weak knees, and make straight paths for your feet so that what is lame may not be put out of joint but be healed," Hebrews 12:12-13 (NET). This was His call for me to renew my resolve, give me fresh strength in struggle, and stay on God's path. He was directing me back to the US with my children. Alone. Single. Even though I was scared, lonely, ashamed to face my supporters, organization, and church. Coming back to an empty house, no car, no job, little money, etc. I knew I was in His Hands. The God of the Impossible.
This is in the heart of God, the impossible. It's His specialty. I believe He really loves doing the impossible: the unimaginable, unattainable, insurmountable, inaccessible, impractical, preposterous. Those hundred-to-one, beyond belief, boundary-breaking miracles. And He uses us to do it!
Let me give you some examples:
Nehemiah and his broken walls.
Abraham and his old lady.
Joseph and his deep pit and unjust imprisonment.
Elijah and his ravens' refreshment in the midst of discouragement.
Joshua and his trumpet march.
David and his giant.
Gideon and his smashing jars.
Unwed Mary and her baby bump.
The disciples and their fish and bread luncheon for thousands.
There's a pattern I see in Scripture. It mirrors my own experience as well. When God calls us to the impossible there may be: weeping, mourning; fasting, and praying; and then, a call to leave our comfort zone.
I certainly did my share of weeping. There were days when there was a perpetual lump in my throat, and I physically could not swallow food. God encouraged me to strengthen my hands and straighten the path in front me. He called me back to a country that felt so distant, both in geography and in my soul. Then came the required risk to do the impossible.
Nehemiah, the cup-bearer, had to approach the king with a request. Abraham had to be willing to sacrifice his promised son. Joseph, Elijah, Joshua, David, and Gideon faced certain death in odds against their favor. I feel like I was much like Mary, risking embarrassment, rejection, judgement, and poverty.
The risk could be status, resources, access, connections, knowledge, money, your very life. The impossible will cost us personally. Jesus modeled that sacrifice. Sacrifice means giving up what you want for something you want more.
Once we say, "Yes, Lord. Send me. I'll go to the impossible believing you are there with me." Attacks usually come. Resistance. Nehemiah faced Sanballat and Tobiah's threats and anger. Elijah faced a famine. David faced ridicule from his brother. Gideon and the disciples battled their own self-doubts and fears. Mary nearly lost her marriage proposal.
In these battles toward the impossible, our unity is most needed. Part of Jesus's prayer in John 17 was, "Now protect them by the power of Your name so that they will be united just as We are. . . I pray that they will all be one, just as You and I are one—as You are in Me, Father, and I am in You. And may they be in us so that the world will believe You sent Me. I have given them the glory You gave me, so they may be one as We are one. I am in them and You are in Me. May they experience such perfect unitythat the world will know that You sent Me and that You love them as much as You love Me."
This spiritual unity empowers us with a steady drive, a determination to finish the impossible God has called us to do. Because we know, people are worth it. The sacrifice is worth it. The reward at the end of the impossible is worth it.
I'm thankful I took that risky step of returning home.
I'll share what awaited me as I traversed the impossible in my next blog.
His Excellent Grace sustains and compels me onward.
~ s.a.s.
It is amazing how people are brought together supernaturally to fulfill God's purposes and plans. One such occurrence recently took place in O'Brien, Florida, at Wellspring Healing Retreat Center, where Tom and Barbara Winslow are Directors. I hope the vision that God let me experience will be a blessing to all who read it.
On the weekend of June 24, 2017, I spent time with my friends, Tom and Barbara, at Wellspring. Tom had just been released from the hospital after miraculously surviving a severe case of Pancreatitis. I was so glad that God healed him! After supper, Barbara and I were sitting outside for a few minutes with her chickens, which she calls "her girls." Around 8:30 pm, I told Barbara that I would like to go and spend some time in the Word with the Lord.
After reading the Word and praying, I began to drift off. I thought I was dreaming but then realized that I was being lifted up out of my body. As I floated, I also realized someone had my hand. I looked to see who had my hand and it was Jesus. His face was so very bright that I could not see it clearly, but his eyes were so loving and kind, giving comfort to me. We began to float toward the ceiling and I braced because I thought we would hit it. Jesus tugged my hand gently. I looked and could still see myself lying in bed. We floated through the ceiling above Wellspring when I noticed the building was in the shape of a cross. I had no idea the building was shaped like a cross before this vision.
At the top of the cross were the most beautiful rocks. They looked like white crystals in the shape of a circle. Water flowed from the center like a fountain with rhythmic flowing – not splashing. The water was very, very clear. It flowed up and back into the well. The water flowed like water within water like a cycle. (It is hard to put human words on this vision.) We floated over the well and watched it together and then Jesus spoke to me and said: "This is my mark." I looked upon His face. The light on His face was bright, loving and peaceful.
(One year later, I was asked to oversee a special project of beautification concerning the well at Wellspring.)
He then led me back through the ceiling to where I was sleeping. I laid back down in my body. Jesus looked back at me as He floated away. The next realization I had was that I woke up completely awake and aware of what had just happened.I wept with thanksgiving for what I had just experienced. I am so grateful for the love and compassion that I knew in the presence of the Lord. Wellspring has become a very special place for me because I never had a revelation of God before my stay there. What a Holy visitation that God made possible because of His Excellent Grace!
Patricia
You can take a virtual tour of the Wellspring facility by clicking onto
* * * * *
Making History
With all the racial conflict occurring nationwide, now seems the right time for a portion of Patricia Hines Mitchell's bio to be told. Patricia grew up hearing stories of her grandfather who made Suwannee County history. She was the first black woman, as well as the first black person, to work in that County as an Emergency Medical Technician (EMT). During that time in the 1980's, she faced racial discrimination and began to realize how difficult it must have been for her grandfather in those early years of segregation.
One day, her EMT unit was dispatched as a rescue call to a private residence where she encountered an "Archie Bunker" type of man. When he observed that she was not white, he made a racial remark about it. Being a strong Christian, Patricia smiled at him and assured the man that she was well qualified and capable of taking care of him. But, if he wanted to postpone his heart attack until the next shift, she was certain the EMT on the next shift would be white.
After carefully considering the options, he was more than happy to accept her services. When the patient recovered, he and his wife submitted a letter of commendation on Patricia's behalf. She was recognized by the Suwannee County Board of County Commissioners for her work that day.
"For now we are all children of God through faith in Jesus Christ, and we who have been baptized into union with Christ are enveloped by Him. We are no longer Jews or Greeks or slaves or free men or even merely men or women, but we are all the same we are Christians; we are one in Christ Jesus"
Galatians 3:26-28 TLB
Patricia believes it's important to remember who you are and to pass that information on to the next generation. She has been doing a lot of research for the following reason: "I want people to know that African Americans contributed to this county and history. There are some parts of history that people never find out about, but knowing who you are, where you came from, gives you a sense of direction, a sense of belonging, a sense of purpose."
( Information for this last part of the post was provided by both Patricia & The Suwannee Democrat publication )
* * * *
Note:  Give Glory to God by sharing your testimony of His Excellent Grace on our Guest Post.  Submit your story to blawyerlogos@bellsouth.net or mail to Logos Life & Light Foundation, Inc., P.O. Box 1732, Ormond Beach, FL 32175.   It will be edited and returned to you for approval before posting.
faith, God's Word, Gods timing, wellspring healing retreat
I have a WONDERFUL testimony that I want to share. Three years ago when my husband and I moved to O'Brien, Florida, I was diagnosed with a urinary tract infection (UTI), for which I was prescribed antibiotics.
Within ten days I was diagnosed with Candida albicans, which is a yeast and fungal infection. When overgrowth occurs, it can begin as oral thrush with white patches appearing on the tongue, which then spreads to the throat and esophagus, and eventually through the entire body, including the organs.
I was constantly fatigued and could not sleep well. I went to two infectious disease specialists and my primary doctor, but to no avail could they help me. A special diet for the candida was pursued, along with an antifungal medication, Diflucan. Also, a Nystatin rinse was prescribed for my coated tongue. None of the therapies seemed to be working.
Candida is called an "infectious disease" because it ravishes throughout the entire body. Being a Registered Nurse, I was aware of the danger when various symptoms began to manifest in my body. I was beginning to be very discouraged and began crying out to my Lord for help.
It was in early May of this year that I requested special lab work to again be done for the Candida albicans. The report came back negative — but the symptoms would not leave. After a great deal of prayer for weeks, it was on Saturday, July 14th, that a healing Anointing was present in our Prayer Chapel. I asked my husband, Tom, and one of our team members, Missy, to pray for me. I was healed and delivered of candida!!
"Jesus answered them … 'Therefore if the Son makes you free, you shall be free indeed. "
John 8:34, 36 NKJV
The Lord JESUS is our Healer and our Deliverer! By His stripes we are healed. God is such an awesome Father to His children. I am so very grateful to Him for healing me! I gave testimony at our church on Sunday and it changed the entire church service. Glory to my Father!
By His Excellent Grace, everyone came to the altar to receive their healing!
YES, LORD!! TO WHOM THE SON SETS FREE IS FREE INDEED!!
(Barbara and Tom Winslow are directors at Wellspring Healing Center)
Feel free to take a virtual tour of the Healing Center by going to http://www.wellspringhealingretreat.org
About this time last year, 2017, while in Pensacola, Florida, I became extremely ill after eating dinner. My wife asked me if I wanted to go to the Emergency Room, knowing I would always say: "No way!" But to her surprise, I said, "Yes!" Not really knowing how sick I was, my family rushed me to the hospital.
Upon entering the E.R., while they started examining me, my blood pressure fell to 50/30. The pain was so great that I passed out. A lot of what went on after that I did not remember, but I did recall having an Ultra Sound and being put into the MRI tube for a scan. I was diagnosed with a condition called pancreatitis.
I was pretty well out of it for a couple of days and did not remember the family and friends who visited me, except my wife, Barbara. One afternoon, Rude', a friend from many years before, who helped us get our ministry building into decent looking order, came into my room and said he was there to pray for me.
When you have been so sick for those couple of days before, I was ready for healing of my body. How God works for us is sometimes extraordinary. Rude' is from Louisiana, and just happened to be in Pensacola visiting at the time.
"Now there was in Damascus a believer named Ananias. The Lord spoke to him in a vision … 'Go over to Straight Street and find the house of a man … He is praying to me right now, for I have shown him a vision of a man named Ananias coming in and laying his hands on him so that he can see again!" So Ananias went over and found Paul and laid his hands on him and said, 'Brother Paul, the Lord Jesus, who appeared to you on the road, has sent me so that you may be filled with the Holy Spirit and get your sight back.' Instantly (it was as though scales fell from his eyes) Paul could see, and was immediately baptized. Then he ate and was strengthened." Acts 9: 10-12, 17-18 TLB
We know that the Lord sent Rude' with the Anointing to pray for me that afternoon. I believe that prayer started me on the way to recovery. I was very thankful for the many prayers that had been sustaining me prior to his visit and the care I received at Sacred Heart Hospital. I know that Doctors promote healing, but it is God who is the Healer. His Excellent Grace is sufficient for us when we need it the most – of which I am very thankful!
— Tom Winslow
faith, Gods timing, grace, Uncategorized
Some depressions can be handled with mind over matter, but there are others that can't. Everything is dark and difficult. Before I experienced that kind, I thought people who complained of depression were lazy pessimists – "Eeyores"! After I had my daughter, I got the baby blues. I cried all the time. One day felt like three — joyless, hopeless, boring days. I would try to talk myself out of them by creating things to do. Nothing worked! I only got more annoyed by failed attempts of climbing out of it on my own.
My husband suggested seeing a doctor. The doctor suggested prescription drugs, which, after a battle with pride, I surrendered. However, while pregnant, I read so many articles about babies and the one thing I wanted to do for sure, was nurse! The doctor told me that the dose was low enough to still nurse. But after two days, I could see a difference in my daughter. I could not take medicine and nurse at the same time.
Right after my husband left for work, I got down on my knees in the living room and prayed: "Lord, You saved me from my sins. You saved me from hell. Surely, this depression is nothing for You – Help!" And I wept for a long time, punching the floor, letting it all out before the throne of God.
I was not healed of my depression immediately, nor did I receive any promises or get words that I would be. That tiny mustard seed of faith began to start a root. That root came in the form of a radio show. A speaker spoke about when you go to work, you don't just roll out of bed and start working. You get up, get dressed, eat, etc. Stay at home moms should do the same, one step ahead of the demanding baby. I knew I had to do this, as painful as it was to get up at 6:00, I did.
Combined with this advice was the pleading of a Pastor from the pulpit to read the Bible in its entirety. Get to know God yourself. I combined those two – 6 a.m. and the Bible. Again, no magical time, no immediate gratification. But, I noticed, I was thinking of things I read in the morning. Like Leah, how unloved she was. I had a new admiration for God in looking at her with concern, blessing her with sons. Leah named her first three sons the names that represent her not being loved and wanting her husband's love. Then she had Judah … which means … This time I will praise the Lord. I would think about that throughout the day and then realized that is the lineage of Jesus – the Lion of the tribe of Judah. "This time I will praise the Lord" … a surrender, and through that surrender is Jesus Christ.
As I was doing my laundry, I would think about the Israelites having animal blood sprinkled on their clothes. What was it like for them to not have oxyclean and have blood stains on their clothes? Especially from an innocent animal that died for their sins. What a soberness they must have had. My soberness came to …. thinking about Jesus. That blood I sing about, talk about, is needed – really needed!
I read about Jephthah. It took my breath away. I grieved and cried with his daughter and her friends. While reading Proverbs 14:23, I had a jumper, one that just jumps out and comes to live with you: "In all labor there is profit, but mere talk leads only to poverty." And so, while doing monotonous chores, I would quote this. Sometimes gritting my teeth, other times with a smile knowing that none of it was in vain. The Word was traveling from my brain to my heart and changing me.
I noticed two themes that were mentioned over and over. "Fear not … Wait … Fear not, I am with you." Did I believe that? Was He with me when I was feeding mushy orange stuff to my baby in the high chair? Was He with me as I made piles of clothes on my couch and while changing diapers? I had to believe 'yes' – I chose to believe 'yes'.
One day I was in my car ready to drive away and a beautiful leaf was on my windshield. "I will never leave you nor forsake you," came to mind. "Leaf" you – I smiled. Since then, God has continued to give me organic love notes reminding me that He will never "leaf" me. : ) "Wait on the Lord" Psalm 27:14. You know what I do when I wait? I doubt. I want to change the plans. Like Saul, I saw that if I did not wait the way I am supposed to, I am Saul and not David. I also saw that although I could quote: "Trust in the Lord with all your heart, lean not on your own understanding, in all your ways acknowledge Him and He shall direct your path." Proverbs 3:5-6 – but did I do that? My own understanding was that I was doing meaningless work with no rewards. My own understanding was that I was not doing anything for the Kingdom. My own understanding was that I was invisible, that everyone else had importance and I was forgotten. I had to ignore that. I had to trust God. Trust in a God that is asking me to wait. Asking me to not fear. Asking me to acknowledge Him … then came the paths. And I really began to love Him. Because I saw that the Lord was good for myself.
When I finished the Bible, I closed it and prayed this: "Lord forgive me, I did not know You. I knew bits and pieces and I made up the rest. Forgive me. Although I still have unanswered questions, You are clearly defined." Not only did I have a new love for the Lord. I had a healthy fear. And He is here! And fresh from Revelation, He is coming again!
Hosea 7:14 (NIV) says,
"They do not cry out to Me from their hearts but wail on their beds."
Could it be that we are crying into our pillows and not into the God who loves us? He is a Father to us. He tells us in Matthew 23 to not call anyone else Father, because that is His role to us … not to call anyone else Teacher, because again, He is to be that to us. I was not letting God be my Father, nor my Teacher, but when I did, it made all the difference. I am His daughter – His apprentice.
I can't tell you a day when the depression left, but I know that the Holy Spirit walked me out of it by my walking with God, following Jesus. I had to take "Love the Lord your God with all your heart, soul, mind and strength" out of my framed artwork and turn it into my daily practice.
"Let us acknowledge the Lord; let us press on to acknowledge Him. As surely as the sun rises, He will appear; He will come to us like the winter rains, like the spring rains that water the earth." Hosea 6:3 NIV
May the Lord bless you and may you dare to draw close to Him and receive bountiful blessings of His Excellent Grace!
Shared by Laura Ogrodnik
Prior to meeting the Lord Jesus, I did a lot of really stupid things. I may still do some stupid things, but extra stupid back in that day. Things I thought funny and harmless had very real consequences! And they came to collect at a time I thought would be the least likely of times.
If you are not a born again believer, then you are under the sway of the wicked one. "We know that we are children of God, and that the whole world is under the control of the evil one." 1 John 5:19 NIV
And while under the sway, I said things, did things that entrapped me.
"The tongue has the power of life and death, and those who love it will eat its fruit." Proverbs 18:21 NIV
So, during those séances, tarot cards and Ouija boards, I didn't notice the darkness setting in. When I spoke curses over myself, and others, I had no idea what I was doing. But I opened myself up to the enemy. Like a foreigner being taken advantage of due to not knowing the language; I had signed up to be in chains to the evil one.
And when I had my born again experience, when Christ forgave me, I became alive. During the day, I was filled with joy and the fruits of the Spirit. When I went to bed, it was a different story. For about a month, I was tormented – but only at night. Paralyzing fear entered and I was not alone in that room. I could feel the dark creatures line up around my bed. I didn't see them, but I felt them. I could not talk and felt like I was choking. My only aim was to say the name of Jesus and it took so much effort to try to even mouth the word. Over and over I would attempt, but no sound. I couldn't understand why I was experiencing this when I had just met God. But I knew that the word of Jesus was my only weapon. After much endurance, I would be able to say, Jesus, and the darkness would leave and I could rest.
Like I said, each night, I would have this experience. I tried sleeping with a light on. Turns out, these guys did not have a roach-like nature. They could stay with me and my lamp. I kept music on and the music did not stop them. I was afraid to tell anyone as I would seem crazy. At the time I went to a kind, warm Baptist church. I could not even picture any of those folk saying the word demon, never mind believing they existed!
Approximately a month after these nightly hauntings, I had a different experience. This time, I felt like I could see eyes. It was extra scary. I started calling, crying Jesus, Jesus, Jesus, Jesus … over and over again, fervently. After about ten minutes, which is a very long time in this state, I felt something on my head – an electric bolt that went throughout my entire body. It felt amazing. My entire body was tingling, my tongue started vibrating, a sensation I had never felt before, all within the inside. I was not fighting this battle by myself anymore. I was protected. I was loved – and the room was clean. I wanted to laugh. I was in awe. My body felt lighter, like the feeling of not being sick anymore and the appreciation of an appetite. So was the presence of God in my room. My entire room was free of evil. My mind was free of tormenting thoughts. I didn't want to move a muscle in case it would make the peace leave. That was the last night I ever experienced that kind of torment!
I was bold enough to tell a charismatic friend the next day. I felt it wouldn't freak her out. She believed every word. She listened and afterwards said that I experienced the baptism of the Holy Spirit and had a deliverance. She showed me in the Bible where it speaks of being baptized in the Spirit. I believed that is exactly what had happened. Now, after much learning through my Heavenly Father, I understand that I had given my enemy access to me in those divination practices – and he was not leaving easily! Sometimes we can love Jesus and walk by faith but still need deliverance – I am proof!
"There was in their synagogue a man with an unclean spirit.
And he cried out, saying, 'Let us alone! What have we to do with You, Jesus of Nazareth? Have You come to destroy us? I know who You are – the Holy One of God!' And Jesus rebuked him, saying, 'Be quiet, and come out of him!' And when the unclean spirit had convulsed him and cried out with a loud voice, he came out of him."
Mark 1:23-26 NKJV
By His Excellent Grace, I now stand on the victorious side of this battle. Christ was able to defend and scatter those demons that came against me.
Christ destroys demons. Christ delivers His children. Christ is Jesus of Nazareth. Christ is the Holy One of God … and He sweetly came to my rescue!
"His banner over me is love." Song of Solomon 2:4 NIV
Shared by Laura Ogrodnik
Email:  lalabythesea@gmail.com
deliverance, demons, Gods timing, satan, the occult, Uncategorized
One of the most memorable and meaningful experiences of God's Grace in my life happened many years ago. At that time, my two-month-old baby was suffering from a harsh cough which seemed to be getting worse by the minute. After taking him to his pediatrician, who was very concerned but unsure of the cause, I followed his advice and took Timmy to a pediatric heart specialist. He, too, was very concerned and considered my baby to be seriously ill, but was also unable to make a confident diagnosis. The pediatric heart specialist recommended we get Timmy immediately to Chicago's Children's Memorial Hospital. We lived in the northwest suburbs at that time, so were able to get him there fairly quickly.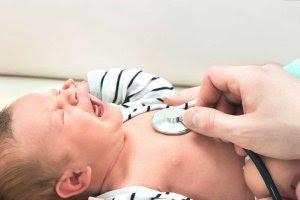 However my critically ill son was not examined until countless forms were completed while he was vigorously crying, even turning blue from time to time, but not yet receiving help with his respiratory problem.
Finally, Timmy was admitted but once again, his illness was not accurately diagnosed. Several doctors sincerely tried to identify what was causing his breathing difficulties and harsh coughing. For several days they observed him, but the truth is, he was not improving. Praying helped me remain somewhat calm, but fear of what the final diagnosis would be was overwhelming. Timmy was still struggling night and day, just to breathe and the continuous coughing was wearing him out, yet he rarely fell asleep.
I stayed with my child at the hospital as he would be in danger of choking if left alone. There was a severe shortage of nurses at that time and most of the youngsters in the hospital had to be left alone much of the time.
My faithful prayer partners and I fervently prayed around the clock for his healing. One lesson I had read in a book by Catherine Marshall was about The Prayer of Relinquishment. Actually, I had tried to push it out of my mind as it seemed too difficult to even contemplate at this disturbing time in my life. But, it seemed the more I tried to avoid even thinking about it, the more it kept returning to my mind. I didn't truly believe I had strong enough faith to pray it and honestly mean it. So instead, I continued to pray the same plea: Please, Gracious, Loving Heavenly Father, just heal my baby and let this dreadful time be over. I will thank and praise You always. In Jesus' name I pray. Amen!
Meanwhile, Timmy continued to gasp to get his breath, still turning blue. It seemed to help when I picked him up and gently turned him upside down. But no improvement.
Finally, the power of God's Holy Spirit came on me and gave me the courage I needed. I knew it was time for me to pray The Prayer of Relinquishment. After another short but seemingly fruitless visit by a new doctor, I fell to my knees in front of Timmy's bed. Struggling to be sincere, my prayer went something like this: "Gracious Heavenly Father, Thank you for hearing this prayer. Thank You for this precious baby boy who is such a blessing. Today I am intentionally surrendering him back to you. He is Yours . . . Your will be done. If it is Your Will to take him to be with You, I will still praise Your Holy name. I relinquish Timothy Jon to You in the name of my Lord and Savior, your Son, Jesus Christ. Amen!
As I got back on my feet, I felt a bit of fear trying to overcome me, but at the same time an even stronger sense of relief. Nothing had changed with my son's condition, but I did have a new feeling of peace in my spirit.
The next day, another new doctor stopped in the hospital room to examine Timmy. He was kind and gentle but did not offer a diagnosis. Later that same day, one of the regular doctors came in with good news. The head pediatrician had diagnosed my son with whooping-cough and had ordered gamma globulin. Treatment would begin as soon as this medicine arrived. What a relief!
Once the treatment was started, Timmy began to improve rapidly. Soon his health was restored and he was able to go home where his big sister happily welcomed him with hugs and kisses. He was no longer contagious and everyone was happy to see him well again.
We have never been able to solve the mystery of how Timmy caught whooping-cough. He had been given the first shot of the DTaP vaccine but doctors all seemed to agree it was doubtful it had affected his respiratory system. I am not sure I agree with their conclusions about that, however.
And I may not know for sure until the day I meet Jesus in Heaven, face to face, if my finally giving up my son to God and asking Him for His will to be done, had anything to do with the accurate diagnosis finally bringing about Timmy's recovery. Many very sincere believers pray similar prayers but have not experienced the recovery for which they believed.
It is my sincere opinion that the medical knowledge of the chief pediatrician who eventually made the accurate diagnosis and prescribed the right treatment brought about his recovery. I do not consider this as much a case of a miracle healing, as His Excellent Grace!
Shared by Darlene McRoberts 
God is good, all the time. His timing, however, is not our timing. Several times in my Christian walk I have found myself sick, with no answers, and as I screamed out to the Lord, He has answered my cries. These answers have come in the form of wisdom and understanding of my body.
"The righteous cry, and the Lord heareth, and delivereth them out of all their troubles."
Psalm 34:17
The latest episode started in October 2014, with a cough and shortness of breath that I could not get rid of. Eight months of antibiotics and still the cough and shortness of breath would not go away. I had a temporary rest, and the cough started again. June of 2016, I was diagnosed with asthma and given all the medications: three different breathing pumps, prednisone and strong cough medicines.
By October the asthma seemed to have become chronic and I seemed to get worse instead of better. Increasing the prednisone would help, and as I decreased the dosage the symptoms would return, but worse.
December 3, 2016, I barely made it to the hospital where I stayed for seven days. Still several visits to the ER for the several months following, and weekly visits to the pulmonologist, and allergists, without improvement. I was tested for all kinds of allergies, but my triggers were innumerable. I lived in my safe space, my home, and rarely ventured out.
December 2017, I was well enough to go to church and that day we had a wonderful service. I felt in my spirit that I had received my healing. Finally, after months, years, I felt the Lord release me from the bondage of this illness that didn't let me breathe, or sleep, and that had changed my lifestyle. That week, however, I was really sick and disappointed.
My husband, Jorge, who watched me like a hawk, realized there was a connection between the food I was eating and an asthma attack. After much research, I figured out that everything I was eating, in my attempt to eat healthy, was in fact, making me sick: sulfur, sulfites, sulfates.
Sulfur is in some foods like onions, garlic, asparagus, etc.
Sulfites are in water, and as a processing agent in much of what we eat.
Sulfates are in shampoos and soaps.
That realization, took me from really sick to healed. Within 24 hours, I was off all my medications and healed! Once again, the Lord didn't deliver a miraculous healing but instead guided me to the cause of my illness – my body does not process sulfur properly. Thank you, Jesus, for your wisdom!
"Wisdom is the principal thing; therefore get wisdom. And in all you're getting, get understanding. Exalt her, and she will promote you; She will bring you honor, when you embrace her. She will place on your head an ornament of grace; a crown of glory she will deliver to you." Proverbs 4:7-9 NKJV
There are no limits when it comes to His Excellent Grace!
Marta Delgado
faith, God, God's Word, guest post, healing, Uncategorized
Like most, I have been the recipient many times over of God's excellent grace and I will share an example here today. Grace comes in all shapes and sizes and I have experienced much of both. This story is about about my sons, Micah and Jesse. I was divorced when my two boys were young, so we did the weekend thing and they stayed at their mothers during the week. The divorce, as most do, took a huge toll on all involved, the boys were feeling in the middle and struggling with the whole thing.
I was a strong Christian at the time, but I daily worried that due to some of my own struggles that they would not have interest in "My Jesus".
My boys were not exactly seeing me "walk the walk" all the time, and even though we were in church almost every Sunday, and I knew the word of God, I still was modeling behaviors that confused them and I was worried they would reject Christ when they were a few years older just because of what they saw in me. But I prayed all the time for the healing of memories for them, and for the breaking of generational curses of addiction that had come from up my family line. I just hoped somehow through mymess they would see a message and through my tests, they would see a testimony. Despite my struggles I had seen miracles and knew the power of God.
I knew that they needed to experience God for themselves and prayed often that God would reveal Himself to them so no matter what they had seen of me in my past they would come to the Lord because of their own experiences. That prayer was answered in both my boys lives on one occasion after a church service. They were maybe 10 & 8 years old. I had decided to stop at the Chinese place by the beach on the way home and eat some lunch. On the way. I asked my son Micah what he learned in Sunday school. He said "We learned about God's favor, and how we Christians can have it." I was happy to hear he was learning good solid biblical teaching. I was not, however, prepared for what was to come next.
As we pulled into the parking lot, Micah looks over to me and says, "Hey dad, lets pray for favor in the restaurant!" "Huh?" I was struggling for an answer and I thought he would forget in a minute. Nope. As we parked the truck he looked over at me again and said "What about the favor? Pray for it dad!" I was up against a wall. By now my younger son Jesse had become intrigued with this whole favor thing, and was also staring me down for an action prayer. I said, "You know son, God loves the prayers of the little children! You should pray!" It wasn't that I was afraid to pray, I just could not think of how God could give us favor in a restaurant.
So Micah said a short prayer like "Dear God, please let us have some of your favor in here, Amen." Precious – Yet very scary to me. What could possibly happen? We would each be given an extra fortune cookie? I just could not see it but I had no choice. His childlike faith was expectant. I was so encouraged by his faith but did not want him to be let down.
In this case, it was me with the little faith. While I doubted and worried I was about to see a life changing experience for my two boys that to this very day they recall vividly. It set a foundation for their faith and it was the answer to my prayer that they would both experience God. To me, I know also God was dropping some Excellent Grace on me because what happened was exactly what I wanted, a personal experience for them.
So here is what happened the moment we left the truck after the prayer; I opened the door for them to walk in and we waited about three minutes for the hostess. I was still more frustrated than a hornet trapped in an old Coke can, just trying to imagine what favor we could get before we left. The hostess came and grabbed three menus and asked us to follow her. We walked to the table she stopped at, waiting for her to lay the napkins or whatever down, and let us be seated. She didn't do that though. Instead, she took a glance at all of us with a very serious look on her face, and then she reached around me to tap Micah on the shoulder.
Obviously curious what was going on, I totally stuck my face right in the way to hear what she was to say to him. What business does she have with my 10-year-old? She proceeded around me and looked Micah dead in the eye and serious as a heart attack and said. "Sugar, you are eating for free today!" No reason, rhyme or even explanation! She just walked away as if nothing unusual had taken place.
I was kind of numb about it at first thinking only of how come she picked him. Duh, she picked him because he prayed with the faith of a child for favor and sure enough he got it. That incident was one of the most powerful testimonies my kids ever saw and we still talk about it once in awhile today. Not only did God grant me answered prayer about my children not running from Him, but He went further and straight up did a miracle for a 10-year-old who asked for it. Simple, simple faith it was.
To this day I count that incident as a shining example of how God gave me something I did not deserve, a miracle for my boys to see that solidified their faith in God at a very young age. It may not work the same in every situation, but it did that day, and I needed a second chance for their faith to not be crushed by past circumstances. To this day, now in their 20's, they are both grounded and rooted in the Christian faith. I am so very grateful God showed up and showed off with His Excellent Grace on that day.
tj – Creator Don't Label My Kid! Blog
Anissa, faith, grace, prayer,, Uncategorized
His Excellent Grace is something that I have received many times. I will share just one of the times I experienced it.
It was round about July 5th, 2005. I was homeless and strung out on a drug called Meth. I had lost my wife of 15 years and my two youngest children. We had lost our house, business and even ourselves. I had introduced my wife to the drug just five years earlier and in five short years we had lost it all. The drug had consumed everything about us. We lost who we were and found ourselves doing things we never thought we would do.
As they say:
"Addiction will take you further than you want to go, cause you to stay longer than you planned to stay and cause you to do things you never thought you would do!"
It caused my wife and me to become enemies of each other. We hated each other to the point that I was jailed more than once because of my actions. We were apart but would see each other around town and would talk or fight, depending on our modes, I guess. I remember getting out of jail and just really being sick and tired of it all. I really didn't know what to do or who to turn to. I was too sick to work and couldn't hold down a job, if I found one.
I had been around the church for years. We took our kids and played the role, if you will. We looked like everyone else, did what others were doing, but we lacked our own relationship with the Lord. I remember crying out to God and saying,
"If you are real and will help me, here I am. Help me and I will do whatever You want me to do."
I experienced God's excellent grace. I have never touched drugs or alcohol from that day till this one, which has been almost 13 years. God showed me just who He is. He restored my marriage. My wife and I just celebrated 28 years of marriage and have now been in ministry almost 13 years. God took us right off the streets and we started Daytona Outreach Center, a ministry that helps those such as we were.
Again, His Excellent Grace!
Mr & Mrs. Ray Kelley
Wesley, our middle son, was almost six years old when my husband and I took him to a child psychologist. Sometimes he was very loving and well behaved but other times he seemed defiant and was deliberately disobedient. He was here, there and everywhere.
We recognized Wesley was evidently suffering from a disability and we were hoping and praying for answers and solutions . But when the psychologist firmly told us we should put our son into an institution as he was profoundly retarded, my immediate but secret response was, "Never".
For the next 10 years, my husband and I stood our ground. Wesley dearly loved his daddy and was always excited when he came home from work. Until then, all our other children took turns playing with him. It was usually when they were in school that he got into trouble. During these difficult years, my faith was becoming stronger and I began to trust my Lord Jesus to help me care for all of my family, and especially make the right decisions for Wesley.
Slowly I began to trust God's Will be done and less determined to do what I considered best. When Christian friends suggested it might be God's guidance to put Wesley in a group home, I did pray for an open mind and Godly wisdom. It was when Wesley was 16 years old that things got out of control. My husband called several group homes but they all had long waiting lists.
By then I realized there was nothing I could do to please Wesley, even if I stood on my head. I was finally able to accept that enrolling him in a group home with caregivers trained for residents with his type of behaviors was best.
We were desperate, so my husband called his friend, Ruben Askew, who was at that time governor of Florida. He recommended Sunland Center in Gainesville. My husband must have been very persuasive as they, too, had a long waiting list, but after listening awhile, the sympathetic intake worker finally said "Okay, bring your son here this weekend."
After driving the two hours to bring Wesley to Sunland, my husband cried all the way back home.
To our amazement, Wesley adapted quickly and very well to living at Sunland. We found the staff to be capable and caring. Wesley even won an award for bowling in Special Olympics, which he really enjoyed. Each week, my husband and I drove up to visit our son. Even though we were relieved to see how well he was doing, I still could not hold back the tears when we had to leave to return to our other children.
Last summer, Wesley had his 60th birthday, and both his brothers and several of his sisters would be in town. His caregivers offered to bring him to my home and spend the day with us. All went well, and Wesley clearly was enjoying himself. He even seemed to enjoy posing for a family picture. I was a bit concerned that he might make a fuss when it was time to return, but all went just fine.
Wesley hesitated a bit when he was told it was time to get in the school van, but he smiled and cheerfully got in, as we all hugged him and said goodbye.
Wesley has clearly adapted well to living in his group home these past 44 years. The name has now been changed to Tacachale Developmental Disability Center. God guided us to enroll him there and gave us peace of mind.
We are grateful for His Excellent Grace!
Edvidge ( Eddie ) Davis